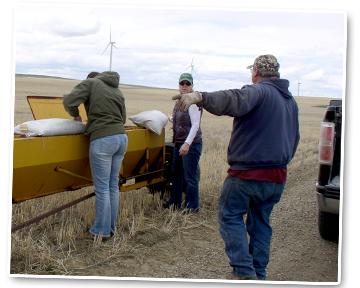 Four County Cover Crop/Soil Health Demonstration Project
Glacier, Toole, Pondera and Liberty County Conservation Districts have partnered up to engage in a four county cover crop/soil health demonstration project.  The project came about when the statement was made "Cover Crops will never work in our area due to the lack of moisture" , so with that being the mind set of most producers within our four counties, the board of supervisors in each county all decided to see if it would be possible to develop a demonstration project utilizing all four counties.  With the funding assistance of DNRC and the field expertise of Natural Resources Conservation Services (NRCS), Montana Salinity Control Association (MSCA), and WTRC we were able to get the project up and running.  In the spring of 2013 the project began and will run through 2018, with a final seminar in 2019.
There are two, local producer participant, 30 acre test sites in each county that have been set aside for this demonstration project. Each site is divided into 15 acres  to rotate cover crop and cash crop each year for five years.  Once a year the soil is gathered and tested for nutrients and biological activities.  At the beginning of each year there is a tenisometer placed on one of the test sites in each county to monitor the moisture levels throughout the growing season.  All the data is then gathered, compiled,  and entered on to a date spreadsheet for each test site.  It is the hope of the project to gather enough data, within the five years, to give the producers a better understanding of the potential use of cover crop method to soil health in our area works.  At  8 weeks of growth for the current year's cover crop, there is a tour that rotates within the four counties. At this time speakers share the information gathered  to date  with participants present.  Most of the information provided is regarding the current season species used, weather patterns, the process of planting and termination method used on that particular field.  All in all the tour is packed with great informative information.  
For more information on the overall project and upcoming crop tours, contact your local Conservation District.